Greetings, readers! I am the crazy person who suggested we read George Eliot's big fat Victorian tome, Middlemarch. You might want to throw a big fat book at me now, right? Go ahead, I'm a fast one, you won't hit me. You might also be wondering why I wanted to read this book. The simple answer is, because it conquered me before. I am right around the crack in the spine where I gave up before. It honestly feels good to (almost 17 years later) be passing the mark where I lost interest.
But the point of my blog post today is a little off the beaten path. I was telling an English-major friend of mine that I was currently hacking my way through this book with a mental machete and we had a little mix-up moment. He asked me if I had seen the "cute movie" about George Eliot, at which point I was pretty incredulous. "Cute" is not a word Dorothea Casaubon would ever utter or use when talking to her crusty, pedantic, cold-hearted jerk of a husband. We quickly realized he had mixed his female
nom de plumes
mixed up! He was referring to the movie
Impromptu
, which is about George SAND. My next thought was, "Evangelical Mary Ann Evans clearly predates the saucier Amantine Lucile Aurore Dupin, right?"
WRONG!
The pants-wearing, scandal-causing, Chopin-lovin' George Sand
wrote her most famous novel, Indiana (1832), long before George Eliot wrote
Middlemarch
(1871-1872). I was blown away by this switcheroo. George Sand and her persona and milieu (Romanticism) feel so much more modern than George Eliot and her many references to Greek literature and Protestant Church history.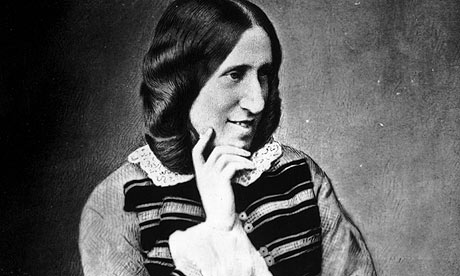 (English George.)

Both women were rebels, in different fashions. Mary Anne Evans openly lived with a married man and his 3 children, and then eventually married a different man 20 years her junior, while George Sand, a few decades before, was smoking cigarettes and hanging out with Franz Lizst. Most pointedly, both women wrote novels about the folly of entering into bad marriages for the wrong reasons,
although Sand's Indiana was clearly much more "Escandalo!"
than the often petty small-town machinations depicted in Middlemarch.
Just a little literary food for thought. Two women, both taking "George" as a pen name, both leaving different marks on the literary world. The works of George Eliot still live on, even if it is mostly through BBC adaptations (or in online reading groups), while Sand's are largely forgotten - but the cult of her personality lives on. Don't get your Georges mixed up ever again!